March Events: Serendipity Storytelling and Craft Activity
The Serendipity programme took place in Dundee in March 2013 bringing artists, designers, technologists and other groups together for a workshop, symposium and other events encouraging participants to think differently and creatively about previously unrelated concepts and ideas.
Serendipity Storytelling Sessions on Saturday 16 March, 12.30 – 1.45 pm & 4.15 – 5.30 pm
The workshop put serendipity at its heart, it is a recurrent theme in storytelling where twists, turns and the chance finding of fortunate things can be very surprising. VRC Centrespace was transformed into an intimate storytelling centre, as a yurt became the centre piece for 'the unexpected in stories'.
The workshop welcomed individuals and groups young and old, as well as families, led by Robbie Fotheringham, Owen Pilgrim and Sheila Kinninmonth and SerenA team members.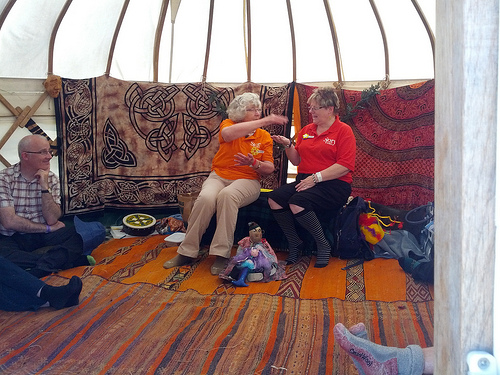 Professional storytellers from Blether Tay-Gither
The event booking http://serendipitystorytelling.eventbrite.com/
Serendipity Storytelling Craft Activity on Saturday 16 March, 2 – 4pm, Activity Room, DCA Meeting Room.
Serendipity can be described as chance finding of fortunate things, which is a recurrent theme in storytelling. This workshop for families used storytelling and ideas of unexpectedness and good fortune to design characters and scenarios that created a serendipity story game using the process of 'fortunately' and 'unfortunately'.
Blether Tay-Gither
Blether Tay-Gither is Dundee's storytelling group, set up in 2007, to promote the study, practice, and knowledge of storytelling in Scotland through the preservation and perpetuation of traditional storytelling. Blether Tay-Gither runs monthly storytelling evenings in and around Dundee, Angus and Fife, supporting and developing storytellers both novice and experienced.
In addition to the monthly club events, Blether engages with the wider community, for example providing comprehensive and very well attended storytelling presences at key events throughout the year (e.g. Big Tent Festival, Bruce Festival), as well as leading on regional storytelling events to share and learn from other storytelling clubs to strengthen individual and collective storytelling practices.
More information:
For further information about SerenA or any of the events please contact:
Mel Woods (PI SerenA): m.j.woods@dundee.ac.uk
Blether Tay-Gither: www.blethertaygither.org.uk
Twitter: http://twitter.com/i_serena